SWEET POTATO PUFFS

Bake or boil a large sweet potato until soft. Peel and "mash" with:

1 cup chopped nuts (pecans, walnuts, almonds, pine nuts)
1 banana
1 cup Grape-nuts cereal
Add unsweetened apple juice to make the proper consistency to be moist but hold together. Use a melon baller or roll in your hands to make balls or "puffs". Shake them in a bag of seeds, unsweetened coconut flakes, and a little raw wheat germ. Serve or freeze for later use. You can add your birds' favorite treats to this recipe.
I did not have the Grape-nuts cereal don`t even know what it is BUT added 1/2 cup rolled oats and a cup of roudybush crumbles I guess you can improvise rolled them Budgie seeds..
Got the recipe from someone here who I think nabbed it from a Ekkie board..but all fids would love it I am sure and sweet potato is very good for them , my boys won`t eat banana on its own and they just love this .....
Lets us know if you try it and what the fids think...I cook a batch and freeze them in small freezer bags , The boys usually have one a night warmed up in the m/wThey love to help me cook too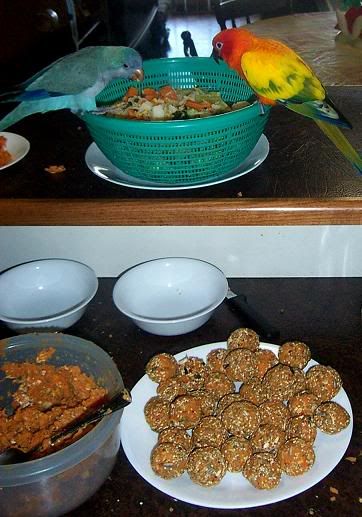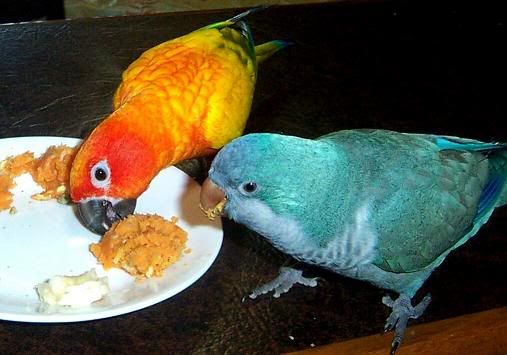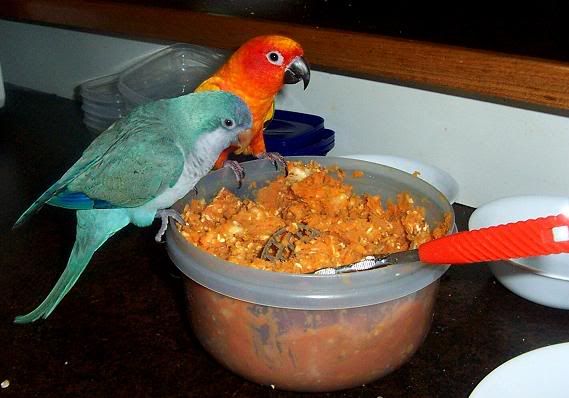 I also do brown rice and vegies and freeze in daily portions zap in the m/w for dinner...